The Mobilarm V100 is a fully automated VHF-enabled Digital Personal Locator Beacon (PLB) designed specifically for offshore oil and gas industries, Naval defense forces and commercial marine operators to ensure a quick, effective rescue in a man overboard or 'person in the water' emergency.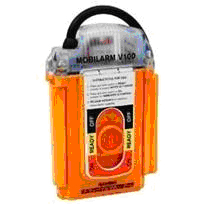 Automatic Activation, Automatic Alert and In-water Tracking
The Mobilarm V100 uses the marine VHF radio band to automatically transmit a man overboard distress alert and real-time coordinates of the person in the water to all VHF DSC or VHF radio equipped vessels within range, including the distressed mariner's vessel.
The design, size and weight of the Mobilarm V100 means it can be comfortably clipped onto webbing, life jacket or harness, or carried in a pocket. For the device to transmit the emergency message its antenna must be out of the water. The Mobilarm V100 should therefore be worn at chest height not at waist level.
Automatic Activation
- The Mobilarm V100 is designed to be water-activated but it can also be manually activated.
Automatic Distress Alert
- Once activated, the Mobilarm V100 transmits a VHF DSC man overboard distress alert to automatically notify all vessels in the vicinity to the emergency.
- The device acquires a GPS lock and transmits the distress alert again on DSC, providing identification and current longitude and latitude coordinates of the person in the water. The message is also broadcast on the emergency marine radio channel (e.g. channel 16) in a synthesised voice.
- The device transmits the man overboard distress message at regular intervals (according to its regional profile) to enable rescue teams to track the man overboard in the water.
- The strobe on the device is SOLAS compliant and assists visual homing on the person in the water.
- The Mobilarm V100 battery will support emergency transmission for a minimum of 12 hours at -10oC (14oF).
In-Water Tracking
- Some DSC radios are able to output a waypoint of the coordinates received in the Mobilarm V100 distress alert to a compatible GPS or chart plotter. This logs the casualty's first known position and updates it with subsequent alerts.
To place your enquiry or order please contact :
Mr. Syed Salikhin
or
Mr. Mohd Alffi Syahrin
Email : bwsb@po.jaring.my
Tel : (6) 03-21416566
Fax : (6) 03-21442816, 21483228