Companies around the world in the Oil, Gas and Petrochemical industries have chosen Elliot Ebara for the design, manufacture and service of their critical turbo machinery product and services.
Elliott designs and manufactures steam turbines and gas compressors, power recovery turbines and power generating equipment – the heavy-duty rotating machinery that helps to transform energy resources for consumer use or helps to process raw materials into thousands of different products that serve society worldwide.
Elliott turbo-machinery products, available in a full range of sizes and capacities to satisfy individual requirements, are designed and manufactured to do what customers want them to do, day and night, all year long, and year after year.
With thousands of compressors in service around the world, Elliott is a leader in gas compression, delivering state-of-the-art performance in a diverse range of industries including petroleum refining, petrochemical processing, cryogenic refrigeration (LNG), oil and gas production, gas compression and other industrial processes.
Elliott's position on the cutting edge of compressor technology includes a number of engineering firsts. We pioneered high-pressure casing technology, the development of fabricated casings and improved impeller welding techniques. Elliott was among the first to utilize magnetic bearings in critical service centrifugal compressors.
Today Elliott compressors incorporate proprietary EDGE technology with advances in aerodynamics, rotor dynamics, computerized equipment selection, process simulation, and metallurgy, as well as totally engineered oil consoles that supply lubrication to the rotating equipment. We understand that change is essential in achieving and maintaining a competitive edge, and together with our customers and suppliers,we continue to innovate, improve and expand our extensive portfolio of products and services.
Elliott's full line of centrifugal and axial compressors are available in a wide range of configurations to meet mechanical considerations and process demands. Common configurations include straight-through flow, double flow, side streams, ISO-cooling, and back-to-back.
Centrifugal Compressors
M Line
MB Line
P Line
PH Line
TC   Line
Rugged And Versatile Steam Turbines
Steam Turbine details and specification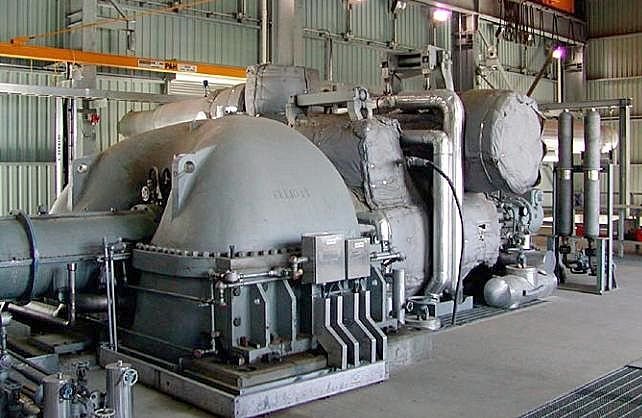 To place your enquiry or order please contact :
Mr. Raja Ariffudin
or
Puan Norhayati Hamid
Email : bwsb@po.jaring.my
Tel : (6) 03-21416566
Fax : (6) 03-21442816, 21483228